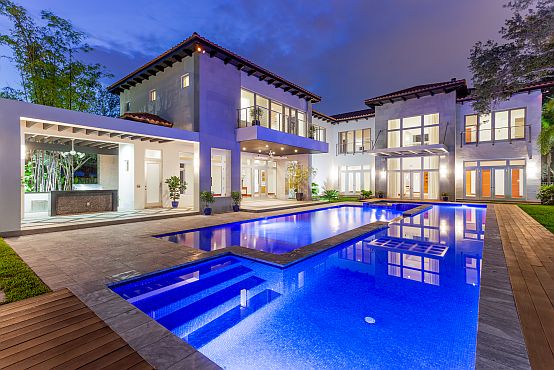 These two dreamy neighborhoods lay side-by-side in Unincorporated Dade County and nestled between the cities of South Miami and Coral Gables; only a stroll away to the eclectic boutiques of Sunset Drive, delicious restaurants, and urban staples of living such as Whole Foods & fitness studios.
'High Pines', which spans Red Road from Sunset Drive to just beyond Davis Road and finds its eastern boundary a bit east of School House Road, might be the description of 'Americana ' depicted in Norman Rockwell paintings: streets dotted with strollers & joggers, youth street play, and evening walks to Whip 'n Dip for ice cream. One will find a diverse collection of properties varying from mid-century 'ranch-style' single family residences to magnificent, newly constructed luxury estates; and quaint condo and townhome communities ranging in price from approximately $200,000 at the Pathways to the luxurious Oak Lane and Pine Manor developments where prices currently peak near $1,500,000.
'Ponce Davis Estates' is slang for the uber exquisite neighborhoods found along the corridors of Ponce de Leon Road (SW 49th Avenue) and Davis Road (SW 80th Street), bordering Sunset Drive on the north side, and North Kendall Drive on the south. Here you will find sprawling acre+ estates, exclusive gated entries, and the exclusive communities of Stonegate and Ponce Estates. Whether your tastes are defined by old world charm (there is even a transplanted Civil War era home), or present day masterpieces designed by favored architects Caesar Molina, David Johnson, or Portuondo & Perotti, Ponce Davis Estates is home to the most discerning local and international buyer.
To learn more about High Pines / Ponce Davis Estates, Coconut Grove, Coral Gables, South Miami, Pinecrest, Palmetto Bay, Brickell, or Key Biscayne contact Val Byrne with EWM Realty International or www.MiamiRealEstateWorks.com at email at [email protected] or by phone at 305-323-6231. Val Byrne – Working For You!
Sorry we are experiencing system issues. Please try again.