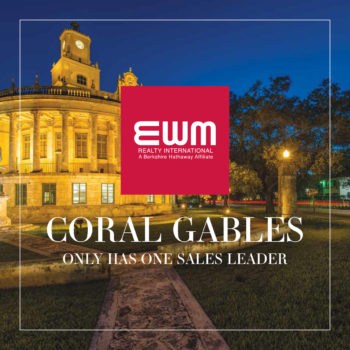 July was an award-winning month at EWM! Not only was our company ranked #1 in 2017 sales in Coral Gables but the annual Miami Herald Real Estate Survey voted us Best Brokerage (for the third year in a row), and bestowed our beloved President Ron Shuffield the Best Broker award (every EWM realtor will attest to that and raise it some)! 
We swept the Oscars with 'Best Realtor' award too, and I use the term "we" loosely because that accolade goes to our famed Miami Beach realtor, Nelson Gonzalez.   My husband and I have known Nelson 40 years  – he has aged wisely and gracefully, and the award couldn't have gone to a better guy!!!!
Coral Gables is near and dear to me – I was born in one of the original Coral Gables homes on Milan Avenue, attended Church of the Little Flower and St. Theresa School (I can still close my eyes and see the STS logo on my pocket), and have worked in the 'City Beautiful' for many years.  I am proud to have contributed nearly $25,000,000 of EWM's $181,451,000 in sales this year.
Val Byrne's Closed Sales in Coral Gables, 2017
Recently Listed in Coral Gables & Ready to Sell!
Learn more about real estate in Coral Gables, Coconut Grove, Pinecrest, South Miami, High Pines, Brickell, and Palmetto Bay, by contacting Val Byrne & Associates at [email protected] or at 305-323-6231. Val Byrne – Working For You!