I put my Halloween wares out last night. Actually, we carved a pumpkin about 10 days ago but with all the rain and heat it didn't fare so well – it had a melt-down so to speak. Our house on "Happy Street" is ready for the Halloween Parade, which is the unofficial name for Halloween night on SW 85th Street in South Miami. "Happy Street" is the unofficial name given to our little stretch of SW 85th Street by Mitchell Kaplan (of Books & Books fame) when he described our cool neighborhood, where his boys often visited friends.
"Our" Halloweens are extraordinary. Hundreds of kids will pass up and down the street between 6pm and 9pm (and then the crazy teenagers come out). I can only compare it to a children's Mardi Gras with lots of parents in tow.  I'm not sure who has more fun, the big people or the little people!  At just about every door you can grab some candy, a beer, and a slice of pizza.
One of my greatest decisions was buying a home in charming South Miami, the fact that we landed on "Happy Street" was pure luck!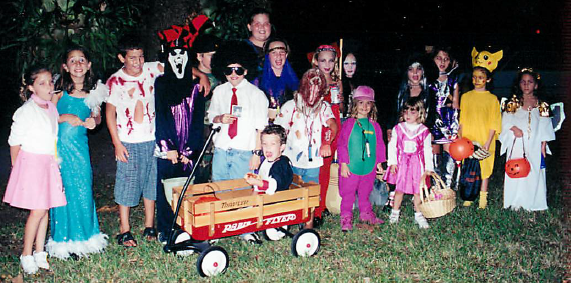 To learn more about real estate in South Miami, Coral Gables, Coconut Grove, Pinecrest and Palmetto Bay, contact Val Byrne at [email protected] or at 305-323-6231. Val Byrne – Working For You!