I have lived in South Miami over 20 years and sold nearly 100 properties during that time, and I've never seen so few properties for sale. We are having the driest dry spell I can remember. Seasoned realtors find 6-9 months of inventory on hand to be a healthy balance, serving the needs of both Buyers and Sellers. In May, 2013 there was only 1 month of inventory on hand!  In the past year the average has been 3.75 months!
This past weekend I got a call from someone wanting to move into the Dante Fascell Park area. They'll buy or rent – whichever becomes available first, but want to be within walking distance to Epiphany School before the end of the year, and prefer South Miami over High Pines (west of Red Road vs. east of Red Road) because they have friends in that area (who I have sold houses to).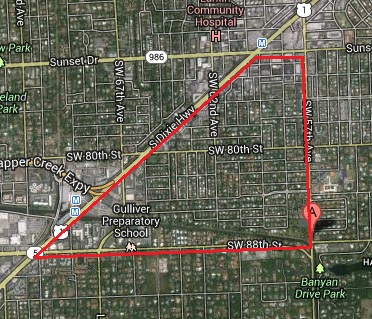 I specialize in South Miami real estate because I live in and love the community, and can usually place Buyers quickly. This charming family of 4 would like 4 bedrooms but will take 3, would love a pool but will consider building one, would be okay with 2,000-2,500ish square feet but would like the space to add on later, and can spend $500,000 to $800,000. Sounds flexible and easy right?
Mrs. Buyer is ready to take half day off work and get started, but she doesn't need that much time because there is only ONE house to see that meets her criteria: a sweet canal-front property on 87th Street behind Dante Fascell Park. That is all that's on the market right now! This dry spell of homes for sale is driving our prices up, setting the stage for multi-offers, and quite frankly getting a little crazy. Will rising interest rates propel Sellers to get their wares on the market while Buyers are still eager? I hope so – let's wait and see.
[space]
To learn more about South Miami or any other community – including Coral Gables, Coconut Grove, Pinecrest and Palmetto Bay, contact Val Byrne with EWM Realty International on www.MiamiRealEstateWorks.com or email at [email protected] or by phone at 305-323-6231. Val Byrne – Working For You!