Condo & Condo Communities Category
I am a steadfast fan of staging an empty home when it's for sale.  Why? Because the difference between a "house" and a "home" is invaluable, especially in Miami's very competitive, fast-moving real estate market.  A home with artwork, floral arrangements, beautiful  furnishings and accessories, and area rugs will engage Buyers – more so than a blank palette.  The collaboration of a gifted 'stager', knowledgeable realtor, and motivated Seller will render the highest and best sale in the shortest amount of time.
Recently, I had the ever so talented Jenny McCloskey stage homes that I had for sale in Cloisters on the Bay in Coconut Grove (3471 Main Highway), and another in Coral Gables.  Both homes looked magnificent when completed and both sold shortly after being staged (and the Buyers asked if they could purchase some of the interior decorations!).
I am so excited to have another gorgeous home for sale that we will be staging next week!  5030 Davis Road (SW 80th Street) will get that touch of the magic wand that Jenny waves…wait till you see the "before" and  "after" pictures!  Casa Iluminada has attracted a lot of attention with it's magnificent walls of glass, European kitchen,, Brazilian walnut floors, and amazing finishes.  Stay tuned for the finale!
Learn more about real estate in Coral Gables, Coconut Grove, South Miami,  Pinecrest and Palmetto Bay, by contacting Val Byrne at [email protected] or at 305-323-6231. Val Byrne & Associates– Working For You!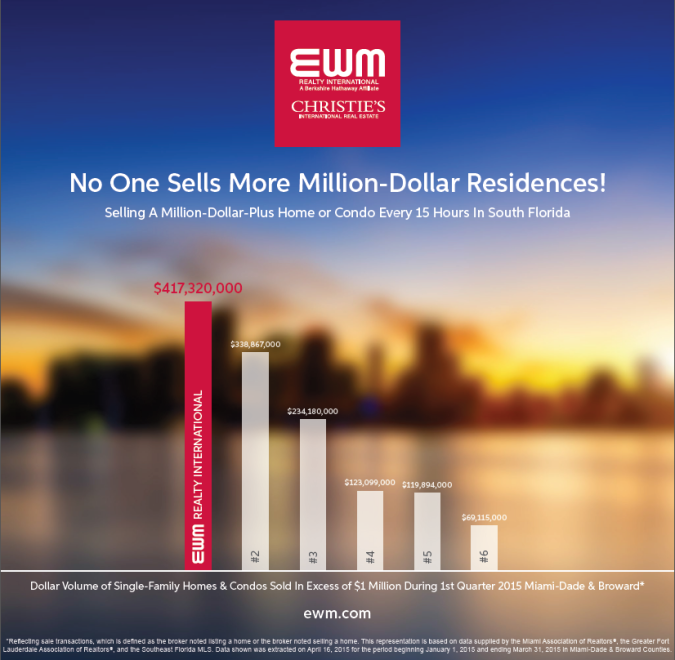 Once again EWM Realty International ranks #1 in the number of homes sold over $1,000,000 in Miami-Dade and Broward Counties. With $417,320,000 in sales of million dollar+ homes in the first quarter of 2015 Buyers and Sellers have chosen EWM over the competition! Bringing it down to a more simple reality, EWM Realtors sold a home in the $1mil+ range every 15 hours! I consider myself fortunate to be in such good company.
All indications of sales and pending sales in the neighborhoods I specialize in – Coral Gables, South Miami, Coconut Grove, Ponce/Davis corridor, Pinecrest, and Palmetto Bay – are pointing in the same direction for the second quarter!   If I were to predict which $1,000,000+ properties I have listed were going to sell this quarter I would bank on these timeless, outstanding residences:
Learn more about real estate in Coral Gables, Coconut Grove, South Miami,  Pinecrest and Palmetto Bay, by contacting Val Byrne at [email protected] or at 305-323-6231. Val Byrne & Associates– Working For You!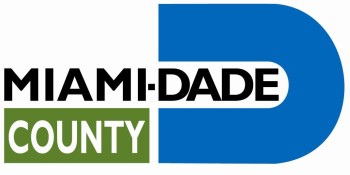 Coconut Grove is buzzing with projects! Besides the new and beautiful Park Grove and Grove at Grand Bay Towers there are many 'works in progress':  Regatta Park & surrounding plans,  Save the Coconut Grove Playhouse, Commodore Plaza sidewalk beautification, CocoWalk revival, and of course new commercial ownerships and proposed site plans all over the Grove.
Very large and intensely discussed on the list is the Stormwater Drainage Improvement Project on Main Highway.  That's Dade County's child, not the City of Miami's, and there isn't any voting about it – it's a must, it will be messy until completed, and progress is sometimes painful.  We barely live above sea level,  and proper drainage is a must. City of Miami Commissioner Marc Sarnoff was kind enough to issue a letter to the community with the facts (as the County presented them).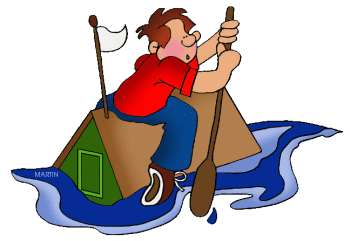 There is an ocean of information in his letter (see below), complete with site maps, but in a nutshell beginning in June and for approximately seven months (ha ha)  there will be a retrofitting of the existing drainage system along Main Highway between Royal Road and McFarlane Road.  Main Highway will be one lane only moving in the north direction, and Grand Avenue will essentially be the route out for southbound traffic. Ouch.
Just thinking about it gives parents dropping off at St. Hugh's, Ransom, Carrollton, and Plymouth Congregational Pre-School some serious anxiety, but this too shall pass!  Many moons ago I worked in Miami Lakes and the commute was really, really painful.  My father's advice? Turn up the radio and enjoy the ride.
The Insider Scoop on the Main Highway Drainage Project
We have received a large volume of emails and phone calls regarding the upcoming Miami-Dade County Stormwater Drainage Improvement Project on Main Highway. With the many rumors and gossip that have been circulating throughout the community, we wanted to present the plans as they have been presented to us by the County. Hopefully this clears up any misunderstanding about the project and its intention.The project is slated to begin in June of 2015 and will retrofit the existing drainage system that has failed due to age and been compromised by tree root intrusion. As you can see in the diagram below, the project stretches from Royal Road to MacFarlane Road and will take 7 months to complete. Miami-Dade County officials have told us that the project was actually going to start earlier. However, it was pushed to June to prepare those frequenting the schools on Main Highway for the incoming traffic congestion when the new year school year begins and to allow for the completion of the Southwest 27th Avenue Project.
With a project of this magnitude, there are bound to be many community concerns. The first is obviously traffic. Undeniably, this will narrow one of the most used streets in this community, especially for drop off and pick up during the school year. Traffic will be one-way, heading North, and southbound traffic will have to be rerouted down Grand Avenue to Douglas Road. See the below illustration for a visual representation.
Another concern for the community and this office has been the removal of trees along this signature corridor in Coconut Grove. We have been told by the County that NO trees will be removed during this project. This project only addresses the stormwater drainage system underneath the street. Additionally, the City has requested that a bike lane be striped on the side of the street, removing the commodore trail from the sidewalk.Another concern we have heard from residents is that the County project is to add sewage lines for up-and-coming high-rise development down Main Highway. This was also answered in the negative by Alejandro Barrios, the Miami-Dade County project manager. This project is EXCLUSIVELY for retrofitting an outdated stormwater drainage system. Additionally, nowhere in Miami-Dade County do stormwater drainage pipes run next to sewage pipes.If you have any additional questions about the project itself, feel free to reach out to Alejandro Barrios, or Francisco Gonzalez at the Stormwater Drainage Design Section of Miami-Dade County, and they will help you. Please call
305-375-4772
.As always, if you have questions or concerns that you'd like to share with our office, you can always call us at
(305) 250-5333
or email me at
[email protected]
.
Learn more about real estate in South Miami, Coral Gables, Coconut Grove, Pinecrest and Palmetto Bay, by contacting Val Byrne at [email protected] or at 305-323-6231. Val Byrne – Working For You!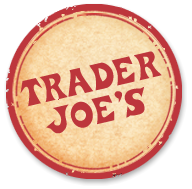 The Edgewater area has blossomed within the past few years into a wonderful pedestrian friendly community. Centrally located, Edgewater is just north of Brickell and Downtown Miami, south of the beautiful Design District and Midtown, and a short drive away from Miami Beach, Coral Gables, and Coconut Grove. Many companies have been fighting for a retail spot in the area. The Real Deal reports, "Developer Fifteen Group has recently unveiled plans to renovate the historic First Church of Christ," leading to the speculation that Trader Joe's could be a prospective tenant. The square footage and location match within Trader Joe's criteria. Publix, located a block away on 17th and Biscayne Boulevard, opened up in 2012 and became one of the busiest stores within the chain in no time. I'm sure Edgewater residents would be thrilled to welcome another grocery store to their community, a little competition is always good!
So many exciting new projects underway for Edgewater it's hard to keep track! The foundation for the first tower at Paraiso Bay has just been poured by Related Group, almost a month after receiving their $93 million construction loan for the four tower luxury complex. The complex will host 1,300 residences, each with Bay views, private elevator and foyer, 9 foot ceilings and large balconies. The Related Group also plans on extending the project by creating a luscious waterfront park open to the public.  I have to ask, can any park be as  beautiful as Margaret Pace Park?  That gorgeous, dog-friendly, expansive park along Biscayne Bay in front of 1800 Club, Quantum on the Bay, Cite, and Paramount is one-of-a-kind, and will be hard to beat.  Love it!
To learn more about real estate in Coconut Grove, Coral Gables, South Miami, Pinecrest and Palmetto Bay, contact Val Byrne at [email protected] or at 305-323-6231. Val Byrne – Working For You!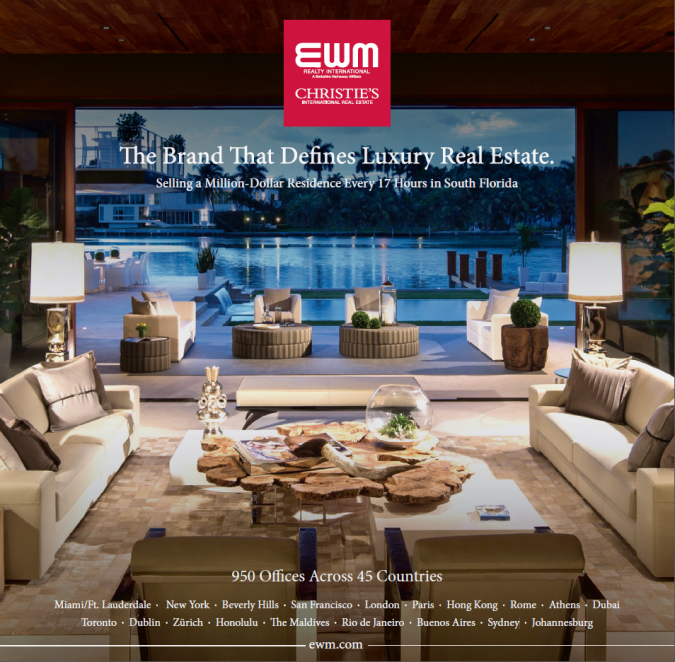 Did everyone read last week's Business Monday cover story about Miami being a leading luxury capital of the world?   It was a WOW moment for Miami where we were defined as "a cosmopolitan playground for the world's wealthy," "the American Riviera," and "a magnet for capital and people from all over the world." To put it in perspective Miami is:
No. 7 of 10 top markets globally according to Wealth Report real estate

No. 9 of 10 in luxury real estate markets according to Christie's International Real Estate (Cote d' Azur, London and Miami are the world's most popular second homes)

No. 9 globally and No. 2 in the United States in sales of Krug Champagne

No. 1 globally in sales of Vilebrequin swimwear

No. 2 in the United State in sales of Audemars Piguet watches

Way the heck up there in world-wide sales of Breguet watches, Ferragamo shoes & accessories, Burgess Yachts, and Maserati cars
So those are some light-shedding statistics on this great city that I have called home all of my life and sold real estate in for 20+ years (specializing in Coral Gables, Coconut Grove, South Miami, Pinecrest, & Palmetto Bay). The most amazing characteristic of Miami is how resilient we are, and how quickly we recovered from the 'dark days' which were darkest in 2007 & 2008. By 2009-2010 we were well on our way to recovery, and 2014 was a record year for real estate sales in both luxury ($1mil+) and non-luxury real estate markets.
You can track the inventory and sales of luxury and non-luxury real estate in Miami for the last 12 years on the two graphs below (click on graph for enlargement):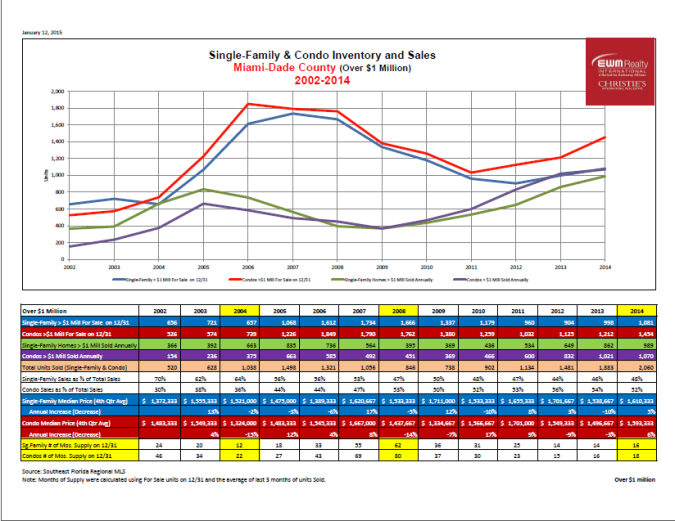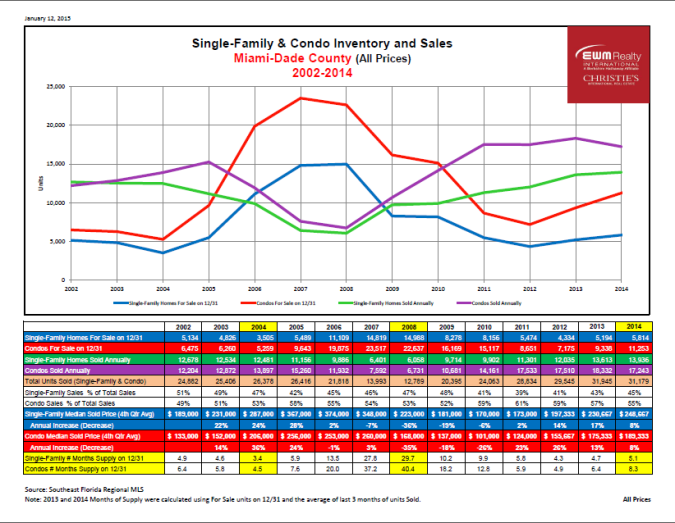 To learn more about real estate in Coconut Grove, Coral Gables, South Miami, Pinecrest and Palmetto Bay, contact Val Byrne at [email protected] or at 305-323-6231. Val Byrne – Working For You!
I have clients coming to Miami this month who want to buy a condo in Coconut Grove but can't afford nor wait for Park Grove to be completed.  I adore Park Grove but we have to remember there is life beyond that site! Architectural styles change and building popularities ebb and flow, but panoramas of sunrise, sunset, Sailboat Bay, and downtown Miami remain constant. Where does one go when they want to be a condo-wheeling Grovite before 2016-17? 
Grovenor House
There are five properties for sale between $1.6 mil and $8.750 ranging from 1,750 sf to about 6,900 sf.  Ugo Colombo completed this majestic 32-story tower in 2006 and it still reigns in my eyes as the king of South Bayshore Drive.
Ritz Carlton Tower Residences & Executive Residences
The 'Ritz' is the benchmark for luxury and elegance and between the two Ritz Towers there are four units for sale between $970,000 and $2.350 mil, ranging in size from 1,560 sf to 4000 sf.
Yacht Harbour
It was the bomb when it debuted in 1975 and this Ken Treister classic is still one of my favorites.  They just finished the 40 year re-certification at Yacht Harbour and with it came new balconies and a completely fresh face at poolside.  There are 4 great units available right now and 2 of them, in the coveted "A" line, have direct views of Sailboat Bay for $799,000 and $675,000.
Grove Isle
The views from Grove Isle are endless, and so is the resort lifestyle: hotel, spa, tennis courts, marina, and restaurant – it's all grand on this private island. Between the 3 buildings there are 10 two and three bedroom units for sale right now between $675,000 and $1.45 mil.
Mutiny Hotel & Condo and Mutiny Park Sonesta Condominium
The Mutiny Hotel located at 2951 S. Bayshore Drive, and Mutiny Park Sonesta Condominium located at 2889 McFarlane Road have a diverse range of inventory beginning at $219,000 and reaching as high as $1.5mil. Both properties appeal to the Coconut Grove investor and periodic visitor who values the hotel/condo platform allowing short and long term visitors.
There are other fabulous buildings in the Grove to consider but there isn't much for sale in them at the moment. Always on my radar are the Residences at Vizcaya, Grove Hill Tower, Beacon Harbour, Grove Towers, and Mayfair Lofts. Without a doubt, the selection of condominiums in Coconut Grove is as diverse and eclectic as the people who live there.
To learn more about real estate in Coconut Grove, Coral Gables, South Miami, Pinecrest and Palmetto Bay, contact Val Byrne at [email protected] or at 305-323-6231. Val Byrne – Working For You!
The Real Deal has published "What top Miami developers are predicting for 2015." In a nutshell the fresh and out-of-the-box thinkers at Grass River Properties are entrenched in the Miami facts that have always driven our economies: Miami appeals to major onshore institutional investors, private equity, and international investors. We attract Latin Americans looking for flight capital and safe haven. We are a magnet for Europeans looking for lower tax bases and better climate, and Northeasterners who have always fled south for warm weather are drawn to our no state tax status. Tom Roth, principal at Grass River Properties, says all of this combined with the residential options and vibrant lifestyle that has evolved in the last 15 years will drive the residential, retail, and office markets in Miami.
Jacob Roffman, principal at 13th Floor Investments and developer of 1010 Brickell, sees young professionals and international investors shaping the residential market in 2015. The young professionals moving in the direction of urban sensibility have driven development investors to these core urban areas. Roffman sees foreign demand for 'for-sale' products moderate as it becomes increasingly difficult to move capital out of foreign countries.
According to Don Peebles, we are going to see continued strength in the luxury condos and the development of luxury condos for rental housing as the gap in the cost of rent and the cost of ownership narrows.
Nitin Motwani, developer of Paramount Miami Worldcenter in downtown Miami, believes in those developments with active sales and marketing infrastructures, strong sponsors, and a unique experience or location will be in high demand (that defines most of the developments I have interest in!).
Ron Krongold (Gold Krown Financial) sees the Miami market leveling out as our inventory increases to seven, eight, and nine months of supply (six months is considered the healthy 'ideal'). At EWM Realty International we have seen the first signs of inventory increasing but demand in all markets is still extremely strong, and well-priced properties are moving quickly.
To learn more about real estate in South Miami, Coral Gables, Coconut Grove, Pinecrest and Palmetto Bay, contact Val Byrne at [email protected] or at 305-323-6231. Val Byrne – Working For You!
The Real Deal, which is a daily read or feed for active realtors, released the "Thankful in Miami Edition" today which highlights some interesting South Florida stats. This information isn't going to make or break your day but they are fun facts:
How many hurricanes have hit South Florida since 2005?   0 / Nada
What is Miami's average temperature? 75.9 degrees (Have you seen what is happening across the country this week? Six feet of snow in Buffalo in one day – yikes!)
What percent increase did South Florida have in median sales prices in the 3rd quarter?

8.7%

What percentage of Miami real estate transactions have been conducted by international buyers this year? 29% This is down from 2013 when then the number was 35% . I am having a hard time believing the number of international buyers is down because I have never had so many international clients. Just this week alone, one property that I have listed in Coral Gables at 515 San Antonio has been looked at by buyers from Italy, Uruguay, Argentina, Venezuela, and Spain.

How many people are predicted to pass through MiamiCentral (All Aboard Florida's downtown Miami station) each year?

12 million!!!!

The dollar impact of that is unknown to me but my first thought when I heard about All Aboard Florida was, 'Where was that when I was trekking to Walt Disney World and Halloween Horror Nights those 30 or so times?"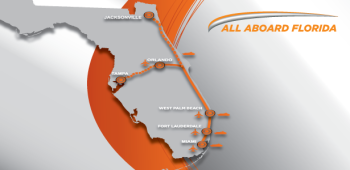 To learn more about real estate in South Miami, Coral Gables, Coconut Grove, Pinecrest and Palmetto Bay, contact Val Byrne at [email protected] or at 305-323-6231. Val Byrne – Working For You!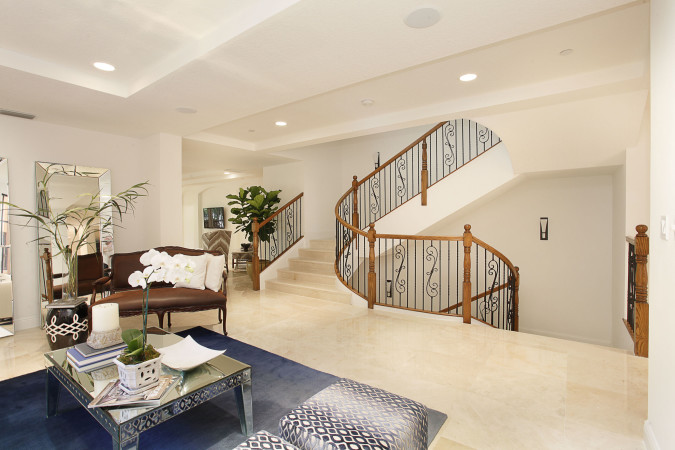 List Price: $1,699,000.00
3 Bedrooms | 4 Baths
It has been an absolute pleasure to market and sell Villa 1137 at Cloisters on the Bay in Coconut Grove. I've sold many properties in and near the heart-of-the-Grove, but none so close to my favorite restaurants, Green Street Café and the Bombay Darbar Indian Restaurant. Anytime a prospective Buyer was late, I walked over to Green Street's for a snack; when I had early evening showings I had dinner at Darbar after.
Those aren't the only reasons though – I can't say enough about that community. The people who live AND work there are wonderful (the guards are the best I have seen in my 20+ year real estate career), the grounds are beautiful and spectacularly kept; of course the tennis courts, club house, and pool are first class, and being nestled between the Barnacle Historic Park, Peacock Park, and Biscayne National Park is heavenly. Cloisters on the Bay is the best kept secret in Coconut Grove, although I guess not such a secret anymore – three of them sold there this month! Congratulations to the lucky Buyers!
To learn more about real estate in South Miami, Coral Gables, Coconut Grove, Pinecrest and Palmetto Bay, contact Val Byrne at [email protected] or at 305-323-6231. Val Byrne – Working For You!
I quote that from this week's Miami Herald Business Monday, and I can vouch for it! I have been out this month searching for the 'perfect' condo in Coral Gables for 3 different Buyers and 2 different Renters, and in both markets condos are moving like hot cakes; especially in the $300,000-$750,000 range. Special writer Peter Zalewski says Coral Gables is statistically outpacing – on a per capita basis – nearly every coastal condo market east of I-95 in Dade, Broward, and Palm Beach Counties.
All of my clients are looking for a newer building with the bells and whistles like luxurious lobbies, 24-hour security, gym (or two!), club & party rooms, business rooms, and resort style pools. Of course all of that needs to be within walking distance to downtown Coral Gables and its wonderful restaurants, boutiques, and farmer's market!
There are so many wonderful developments that fit that bill, and they are not only great to buy to live in, but they are wonderful to rent until you're ready to buy. My new favs are 55 Merrick Place, the Andalusia (although there's no pool), 1300 Ponce, and 50 Alhambra. I'm so glad Peter Zalewski found the time to write about Coral Gables; it was refreshing to hear about something other than Brickell City Centre for a change!
To learn more about real estate in South Miami, Coral Gables, Coconut Grove, Pinecrest and Palmetto Bay, contact Val Byrne at [email protected] or at 305-323-6231. Val Byrne – Working For You!